New Homes Week #MakeYourMove
New Homes Week has been a fantastic opportunity for the housebuilding sector to showcase the benefits of high-quality new homes and the positive impact they can have on our lives.
One of the highlights of New Homes Week was the release of our infographic, which was created to help customers feel confident when looking to buy a new build home from one of our registered developers.
At the New Homes Quality Board, we're committed to championing quality new homes and better consumer outcomes. This infographic provides valuable insights on how we work with developers to make this happen.
Some of the key points include how complying with our New Homes Quality Code gives customers peace of mind, and ensures that all work is carried out the highest standards. We believe that by following the principles of our Code, developers can not only improve the quality of their service but also increase customer satisfaction and loyalty.

---
Interview with Leon Livermore on #NewHomesWeek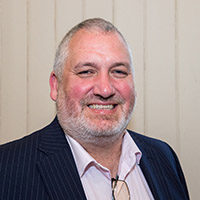 In addition to this, we are also pleased to share a recent interview with Leon Livermore, Chief Executive Officer of the New Homes Quality Board. In the interview, Leon talks about the importance of #NewHomesWeek and the role that NHQB is playing in promoting new build homes for customers. He also highlights the value of working with developers to drive up quality standards across the industry.
Interview with Leon Livermore on #NewHomesWeek
Can you start by telling us a little bit about yourself and your time at the New Homes Quality Board?
LL: My name is Leon and I joined the NHQB as their first CEO in April 2022. This was after my career in Local Government and the not-for-profit sector, including the Chartered Trading Standards Institute where I oversaw the gain of Chartered Status, the delivery of the consumer codes scheme and provided business advice on behalf of the UK Government.
Since joining the NHQB, I've worked with the amazing team here to accelerate the launch of the scheme and establish an Ombudsman, with the goal of improving fairness and customer service in the housebuilding sector.
Why do you think #NewHomesWeek is important?
LL: New Homes Week is important for all of us because it is one of the few campaigns which are entirely dedicated to highlighting the benefits of new build homes, and supporting prospective homebuyers in making their decision.
Campaigns like New Homes Week can help to build trust and confidence among buyers that new build properties are a worthwhile investment. By promoting the benefits of new homes and the quality standards that developers should meet, we can help to ensure that buyers can make informed decisions and enjoy all the benefits of owning a new build property.
There are a lot of options for people when it comes to choosing a home, such as pre-owned homes. Why do you think new homes are one of the better options?
LL: First and foremost, when you buy a new home from a registered developer, you can expect top levels of customer service to make the experience of moving home much smoother. Under The New Homes Quality Code, developers must provide adequate before and after care services for their customers, ensuring all issues can be resolved in a timely and effective manner.
Secondly, new homes are customisable. When you purchase a pre-owned home, you're often stuck with what someone has left behind, which potentially leads to a time-consuming and costly renovation to get it to new-home standards. With a new home, you can work with the Sales team to select the design and finish to make it your own.
Finally, most newly built homes come with a warranty which usually lasts for ten years. Minor issues can be easily missed; it's not until you've truly lived somewhere, stood in every corner, and looked at every light switch do you notice those minor imperfections. With a new-build home, these can be made right without a huge dent to your wallet, and you have peace of mind knowing that if anything goes wrong, it can be taken care of.
You mentioned costs, are new homes more expensive than pre-owned homes?
LL: While the initial cost of a new home may be slightly higher, you will save money in the long run. New homes are made with more environmentally friendly materials and are built to be much more energy-efficient, resulting in far-lower utility bills.
Additionally, developers often offer special incentives to make new homes more affordable.
How can the NHQB help promote new build houses for consumers?
LL: One of the key ways that we aim to promote new build houses is by providing independent assurance to prospective homebuyers that the service they are provided with meets the top industry standards.
We have developed a set of principles for building and selling new homes, as well as the after care, which developers choose to adopt that demonstrates their commitment to quality and their customers. This can help to build trust and confidence among buyers that buying a new home will be as pain-free and transparent as possible.
In addition to this, we also work with industry partners, such as the NHBC, Home Builders Federation, Homes for Scotland and many more, to promote best practice in the industry. By working together, we can help to ensure that new homes are built to the highest standards and that homeowners can enjoy all the benefits that come with a new build property.
How does the NHQB work with developers and builders to ensure that homebuyers can expect the highest standards of quality service?
LL: We work with developers and builders in a number of ways. We offer a range of training, guidelines, and support services, such as a Pre-Completion Checklist and our Accredited Supplier Portal, to help developers achieve these standards, understand consumer needs and have the best procedures in place for resolving any issues.
In addition to this, we conduct annual audits of developers to ensure that they are meeting the Code's requirements and maintaining their commitments. If a developer fails to meet these standards, we work with them to identify the issues and help them to make the necessary improvements.
Finally, why is it essential that the housebuilding sector has a set of industry standards, such as the New Homes Quality Code?
LL: Bearing in mind the changes that have occurred over the last few decades in ministers, planning permissions, and levelling up agendas; it's more important than ever to have an independent, resilient, and quality framework for housebuilders to align to despite changes in the socio-political atmosphere.
And from a more tangible standpoint, there are thousands of different processes that go into building a new home. Unlike a brand-new car, which can be built in an air-conditioned factory by robots, homes are built in a muddy field in all weathers by regular people like us. It is truly immeasurable how many things must go right for a new build to be signed off. But we're all human, and mistakes happen. That's why introducing industry standards can help people see why new builds are an excellent choice.